Template:Infobox musical artist
For the American rock band, see The Wondergirls.
The Wonder Girls (Korean: Template:Lang) are a South Korean girl group.[1][2] They are produced by singer-songwriter Park Jin-Young and are signed to his talent agency, JYP Entertainment.[2] Each of the five original members were selected through auditions. Debuting in early 2007, they became popular in the fall of that year with the song "Tell Me."[3]
Since then they have scored 3 consecutive #1 hit singles with "Tell Me", "So Hot", and "Nobody",[4] and in 2008, won two Daesangs ("Artist of the Year" Awards).[5][6]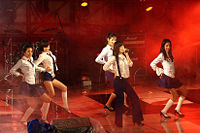 As a group, the Wonder Girls were introduced through the program called MTV Wonder Girls which was filmed and directed by MTV. The first four episodes outlined the characteristics and profiles of each member and showcased their schedules for the day. Not long after selecting Ye Eun as the fifth member, the Wonder Girls had their showcase in the MTV Studio. In the showcase, they performed a cover of "Don't Cha" by the Pussycat Dolls and their own songs, such as "Irony" and "Template:Lang" ("A Sorry Heart"). Sun Ye did the solo by singing Destiny's Child's "Stand Up for Love" while Hyun-a showed off her dancing skills with a solo dance. The other three members — Ye Eun, Sun Mi and So Hee — performed a cover of Janet Jackson's "Together Again".
The Wonder Girls officially debuted in early 2007 on MBC's 쇼! 음악 중심 ("Show! Music Core"), singing "Irony", the hip-hop single from their debut mini-album, The Wonder Begins. The mini-album sold 11,454 copies in 2007.[7] The Wonder Girls official fanclub was established, with the name of "Wonderful".
Throughout the rest of 2007, however, members of the Wonder Girls were beset by various injuries and health problems. On June 25, Sohee was sidelined for a month after tearing a knee ligament falling off a motorcycle during the filming of 뜨거운 것이 좋아 ("I Like It Hot").[8] The remaining four members continued performing until late July, when Hyuna was removed from the group by her parents due to their concern over her health—in particular, chronic gastroenteritis and fainting spells.[3]
Rise to popularity
Edit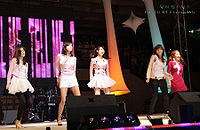 In the autumn of 2007, Good Entertainment, the talent agency sent their trainee Yubin to JYP Entertainment as a replacement for Hyuna. She made her debut three days later in the group's live performance of "Tell Me" on Music Bank .[9]
Their first full-length album, The Wonder Years, was released the following week with "Tell Me." Due to the last-minute addition of Yubin, the album version does not contain her part. However, the performance version of the song was reworked to include a bridge with rapping by Yubin. The single was a hit and reached number one on various Korean television and internet music charts, including KBS's Music Bank.Template:Fact
The choreography for the song was simple and widely imitated: by October, many fan performances of the dance circulated on video sharing sites such as YouTube and Daum,[10], including one by a group of policemen who were eventually profiled on SBS's Star King. The dance became so popular it was known as the "Tell Me Virus" and earned them the title of 'Korea's Little Sisters'.Template:Fact Videos of the dance came from fans in France and the Philippines, and the song also went to Number 1 in Thailand.[3]
The Wonder Girls had an extensive promotional schedule for their album and in late 2007 they began performing the second single from the album, "이 바보" ("You Fool"). They made numerous appearances on variety and game shows, sang live on radio, at music festivals, on music shows, and in special joint performances with other groups such as Big Bang. MTV has also aired three seasons of The Wonder Life, a reality TV series starring the girls.
2008: More singles & continued popularity
Edit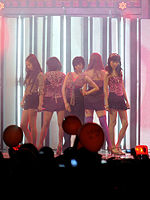 The Wonder Girls returned to Korea in spring of 2008. In May a picture of each member was released over five days starting with Ye-eun and ending with Sohee. A preview track from the upcoming single was then released. There were rumours that past member Hyuna would be returning to the group; JYP Entertainment confirmed that this was not the case.[11]
Their new single, "So Hot", was released on May 22, 2008; the song topped online charts soon after.[12][13] They then performed in mid-2008 on MBC's Music Core, performing "So Hot" and "This Time". The full single was released soon after containing the title track, the rap version of "Tell Me", "This Time", and "You're Out". Due to vocal cord problems, Yubin temporarily lip-synched her parts under doctor's orders[13].
The full music video for "Nobody" was released in the early autumn of 2008, and the single was digitally released at the same time. They performed the following weekend on Music Core, Music Bank, and Inkigayo. The song went to #1 on KBS' Music Bank, staying there for four consecutive weeks,[14] and also won Cyworld's "Song of the Month" award in September and October 2008.[15]
At the 2008 M.Net MKMF Awards, the Wonder Girls won three awards, including "Song of the Year" and "Best Music Video" for "Nobody", and "Best Female Group".[6] The group also won an award at the 2008 Golden Disk Awards for high digital sales.[16] At the 18th Seoul Music Awards, the Wonder Girls won the Daesang ("Artist of the Year" award) for "Nobody", along two other awards.[5]
Overseas promotional activities
Edit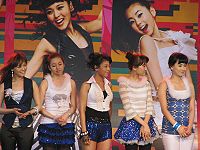 The Wonder Girls have had several showcases in China shortly after their debut in 2007 and have been receiving Chinese language lessons.[17]
In February 2008, the Wonder Girls joined their producer Park Jin-young for his month-long concert tour through Korea and the United States (including New York City and Los Angeles) as special guests, and took the opportunity to film the music video for "Wishing on a Star" while in New York City.[18] Park had stated that the concerts were also meant to be a showcase for his other protégés, such as Min, G-Soul, and Lim Jeong Hee.[19]
In September 2008, the Wonder Girls was selected as a top girl group by Virgin Media, which put them amidst girl groups such as the Pussycat Dolls, Girls Aloud, and Danity Kane.[20] At the end of 2008 the Wonder Girls had earned ₩12 billion (equivalent to $9 million US) as a group.[21]
2009: International tour and American debut
Edit
The Wonder Girls tour started on February 28, 2009 in Bangkok, Thailand. The Wonder Girls, along with mentor JYP, then held concerts in the United States, visiting Los Angeles, La Mirada, and New York City.[22] The group then returned to South Korea, holding concerts in late March.[23] After the end of the tour, the Wonder Girls debuted a music video for "Now", a cover of Fin.K.L's single from their third album. Created for a commercial for LG, a version featuring only the dance was released online on April 9, 2009.[24]
At that time, the Wonder Girls started their official MySpace Music account.[4] The page confirmed that the group would launch in the United States with the official release of an English version of "Nobody" sometime this year.
Member profiles
Edit
Template:Unreferenced section A former member, Hyun-a, left shortly before the release of "Tell Me" due to health complications.[3]
Date of birth: Template:Birth date and age[25][note 1]
Additional Notes :

Made a cameo in 2pm's 10 Points out of 10 music video and in MBC's sitcom, 'That Person Is Coming'.
Featured in Chun G's song 'Weak Man' and Kim Bum Soo's song, 'Do You Know That'.
Wrote the rap for her part in Kim Bum Soo's song.
Date of birth: Template:Birth date and age[25] [note 1]
Additional Notes:

Featured in H-eugene's song "Baby I Love You" and One Two's song "Bad Girl".
Composed and wrote the lyrics for "Saying I Love You" and "For Wonderful"
Date of birth: Template:Birth date and age[25] [note 1]
Additional Notes:

Featured in Mighty Mouth's song "Energy".
Sang "일월지가" ("Sun and Moon") for "Han Sung Byul Gok".
Composed the "Man Won" song.
Featured in Lee Bul's music video 'Forever'.
Featured in JYP's song 'Breakup In The Daylight'.
Date of birth: Template:Birth date and age[25] [note 1]
Additional notes:

Sohee was in the movie I Like It Hot.
Featured as the lead actress in 8eight's music video "Without a Heart".
Made a cameo in MBC's sitcom, 'That Person Is Coming'.
Discography
Edit
Template:Infobox Discography Template:Infobox Discography Template:Infobox Discography Template:Infobox Discography
Television Shows
Edit
Wonder Girls Season 1 (2006)
Wonder Girls Season 2 (2007)
Wonder Girls Season 3 (2008)
Wonder Bakery (2008)
Welcome To Wonderland (2009)
Year
Awards
2007
2008

17th Seoul Music Awards: Rookie of the Year[32]
2008 Nick Korea Kids Choice Awards: Best Female Singer
20th Korean Producers & Directors Awards: Best Singer Award[33]
5th Korean Music Awards: Best Dance & Electronic Song Award[34]
Cyworld Digital Music Awards (June): Song of the Month ("So Hot")[35]
M.Net 20s Choice: Hot Schoolgirl (Sohee)
M.Net 20s Choice: Hot Club Music ("So Hot")
Cyworld Digital Music Awards (September): Song of the Month ("Nobody")
Cyworld Digital Music Awards (October): Song of the Month ("Nobody")
2008 Mnet KM Music Festival: Best Female Group Award[6]
2008 Mnet KM Music Festival: Best Music Video Award ("Nobody")[6]
2008 Mnet KM Music Festival: Song of the Year ("Nobody")[6]
9th Korea Visual Arts Festival: Most Photogenic Singer Award
25th Korea Best Dresser Awards: Best Dresser Award for Singer Category
23rd Golden Disk Awards: Digital Bonsang ("Nobody")[16]
2008 Korea Fashion & Design Awards: Style Icon of the Year

2009
References
Edit
↑ 1.0 1.1 1.2 1.3 1.4 Note: ages are reckoned in the standard western manner. In many East Asian regions, age is reckoned differently; see East Asian age reckoning. As a result, certain references aimed at Korean readership may have ages listed that differ by one to two years from ages calculated from the birth dates listed. This does not indicate an error in either this article or the reference, but rather a cultural difference in the way that ages are determined.
External links
Edit
Template:Wonder Girls Template:JYP Entertainmentde:Wonder Girls es:Wonder Girls fr:Wonder Girls ko:원더걸스 ja:ワンダーガールス th:วันเดอร์เกิลส์ vi:Wonder Girls zh:Wonder Girls